Tucson, AZ.—Tucson Mayor Regina Romero and Mister Car Wash CEO John Lai are partnering to raise a quarter of a million dollars to fund the next chapter of the Tucson Million Trees program. Mister Car Wash is committing an initial $100,000 to kickstart the fund and is committed to matching an additional $50,000. A donor event this fall aims to raise additional funds for the Mayor's effort to fight the heat island effect.
Under Mayor Romero's leadership, the City of Tucson has set a goal of planting one million trees by 2030 to help address extreme heat and advance the City's climate goals. To date, over 45,000 trees have been planted or distributed and Mayor Romero has raised over half a million dollars with private partners to increase the tree canopy in heat vulnerable communities.
A national leader in climate adaptation Mayor Regina Romero was awarded the 2022 Ironwood Award for Public Service from the Arizona Department of Forestry and Fire Management. The Mayor's vision to expand Tucson's urban canopy was recently featured as a case study in the Arbor Day Foundation's 2022 publication, Now is the Time for Trees.
"We are ready to fund the next chapter of the Tucson Million Trees program," said Tucson Mayor Regina Romero. "We continue to move the needle and I am thankful for the partnership of Mister Car Wash CEO John Lai and our community partners who are making a generational commitment to increasing our urban forest. This is about more than understanding the importance of trees to combat the urban heat island effect. This is about acting with urgency. And Mister Car Wash gets it," said Romero.
"We are proud to partner with Mayor Romero and Tucson Million Trees to increase tree equity and improve the ecosystem of the Rose Neighborhood," said John Lai, Mister Car Wash CEO. "Our goal is to amplify water education and engage in watershed protection efforts in the communities we serve, and it starts here in our backyard," said Lai.
Mister Car Wash's $150,000 donation will transform La Mar Park in the Rose Neighborhood from an empty lot to a restored site with green infrastructure and community gathering features.
"We are excited to work with Mayor Romero's Tucson Million Trees program to transform La Mar Park into a green and safe space in an urban environment for our community gatherings, including our upcoming Fall Fiesta," said Martina Leon Rodriguez, Rose Neighborhood Association President. "We are very grateful to Mister Car Wash for their generous financial contribution and look forward to finalizing our vision for this site," said Leon Rodriguez.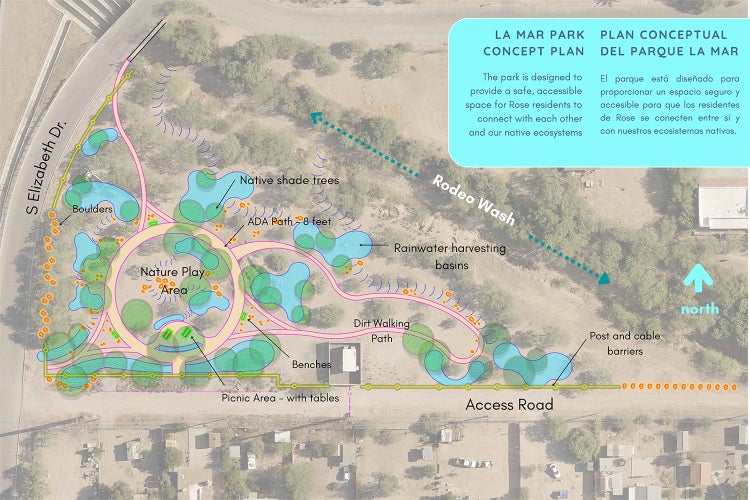 –
About Tucson Million Trees
In 2020, Mayor Regina Romero launched the Tucson Million Trees program to plant one million trees by 2030, focusing on heat vulnerable, low-income communities of color. Since then, more than 45,000 trees have been planted or distributed in partnership with Tucson Clean and Beautiful – Trees for Tucson and TEP's Trees for You program. Mayor Romero has raised over half a million dollars with the generous support of private sector donations.
About Mister Car Wash® | Inspiring People to Shine®
Headquartered in Tucson, AZ, Mister Car Wash, Inc. (NYSE: MCW) operates more than 400 car washes nationwide and has the largest car wash subscription program in North America. With over 25 years of car wash experience, the Mister team is focused on operational excellence and delivering a memorable customer experience through elevated hospitality. The Mister brand is anchored in quality, friendliness, and a commitment to the communities we serve as good stewards of the environment and the resources we use. We believe that when you take care of your people, they will take care of your customers. To learn more visit: https://mistercarwash.com.
Contacts
Mister Car Wash | Media
Megan Everett
Senior Director, Communication
meverett@mistercarwash.com
(520) 615-4000 ext. 154
City of Tucson | Media
Victor Mercado
Communications & Policy Advisor
victor.mercado@tucsonaz.gov
(520) 388-0448